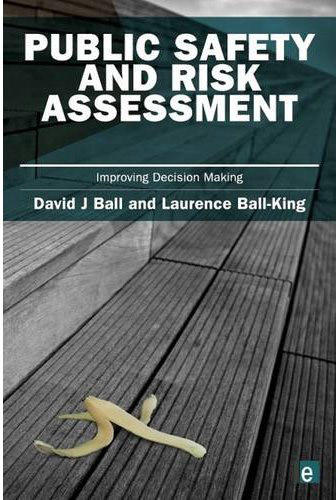 Public Safety and Risk Assessment: New book published in September 2011 by EARTHSCAN/Routledge.
This book is the outcome of over 30 years of involvement with the public, public sector bodies, regulators and the academic community. It explains swathes of academic research from numerous disciplines including risk, economics, psychology, philosophy and decision making and applies them simply and coherently to the intensely practical matters faced by public and private sector bodies responsible for the provision of public space and activities. A second crucial input is first-hand experience of the law pertaining to safety based on numerous cases undertaken as an expert witness.
The purpose of the book is to explain the basics of risk and safety from first principles and take you to a deep understanding of what risk assessment is about, and what it can and cannot deliver. The authors believe that if you do not understand the underlying philosophy of public safety and risk you will forever be vulnerable to competing ideologies which will occupy the slack space bequeathed to them.
Prior to publication the book was reviewed by Sir Chris Bonington, Lord Hoffmann, and Professor John D. Graham. We are immensely grateful for their support. This is what they said:
"So many worthwhile activities are banned or rejected in the name of Health and Safety. Everyone should read this book to see that very often these bans are not justified." – Sir Chris Bonington
"This book strips away the mysticism and jargon from health and safety, subjecting it to rational analysis. It shows that safety precautions always have to be paid for, in money and lost opportunities, and involves choices which cannot be left to experts but should concern all members of a democratic society." – Lord Hoffmann
"Safety is important, but it is not paramount. This book exposes the myths and reinstates the choices we have in determining our lives. Trade-offs are unavoidable. We need to make them with as much care and understanding as we can muster. Read how." – Professor John D. Graham, Dean, School of Public and Environmental Affairs, Indiana University
Since publication Professor Ragnar Löfstedt of King's College London and author of 'Reclaiming health and safety for all' has said in that selfsame document (page 93):
"Ball and Ball-King's recent book helpfully summarises the key issues surrounding the risk assessment process in the context of public safety." – Professor Ragnar Löfstedt
Click here to order the book on Amazon.
About the Authors
David Ball is Professor of Risk Management and Director of the Centre for Decision Analysis & Risk Management at Middlesex University, UK. Previously he was Director of the Centre for Environmental and Risk Management at the University of East Anglia, and before that worked as a scientist in local and central government and the private sector in Britain and the USA. He is a regular consultant to government departments and regulators as well as international agencies. Laurence Ball-King has a Masters degree in risk management and a BA in economics and politics. He has worked in credit risk management within financial services and on a variety of non-financial risks including adventure activities and public safety more generally.