From our perspective this report by Ragnar Löfstedt is both immensely welcome and dramatically  important. As was said in our evidence (by myself and Laurence Ball-King) to his Review Panel, the problems being experienced in relation to the safety of the public and the impact of safety measures on public life were not in our view attributable to our legislation (primarily the Health and Safety at Work etc Act 1974 (HSWA), and the Occupiers' Liability Acts (OLA)), but rather to their misinterpretation. We went so far as to say in our evidence that the underlying philosophy of these Acts was even something to die for. So we are delighted that Löfstedt has drawn the same conclusion.
Why is the legislation so important? Because, as explained in our book, the UK philosophy is not about eliminating risk but essentially about doing what is reasonable, and what, we say, could be more reasonable than that?! The implication of this is that if Tom, Dick or Harry comes up with some ridiculously expensive or inordinately troublesome safety measure, you are not required by law to implement it because it would not be reasonable. So a good question to ask if you are presented with a proposition which has a whiff of over-the-topness about it, is to see the evidence that it is reasonably practicable (this should contain evidence on how effective it will be in reducing risk as well as information on costs and difficulty of implementation and any unintended consequences which the proposed intervention might have).
Also of monumental significance is Löfstedt's total support for evidence-based health and safety measures, and for proportionality. Although both of these are obvious requirements for any rational approach to anything at all, there has been a feeling that the UK has been drifting towards a philosophy of hazard-based thinking, as opposed to the kind of risk-based thinking inferred by the HSWA.
The essential difference between hazard-based and risk-based thinking can be illustrated by a simple example. The picture below shows a traditional canal-side lock. These are used by the public for recreational purposes. They clearly expose users and casual  walkers to a number of hazards, in this case of unfenced drops and serious injury or drowning. From a strict hazard-based perspective you would be required to do something about this, maybe to put up railings or warnings or both, or even ban access. From a risk-based perspective, however, you might be able to leave it as it is if the risk of falling off can be shown to be very low, and/or the benefit of retaining the historical authenticity of the unmodified lock outweighs the risk of harm.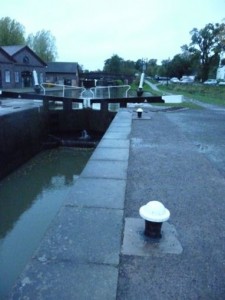 In fact, we think the Löfstedt report and our book tread a remarkably similar path. The main difference is that Löfstedt's remit was primarily the effects of H&S activities on business, whereas our emphasis is upon the effects of H&S upon the provision of public space and public activities. The stories, though, are remarkably close.